1
The Main part of the house comprises of:
Downstairs
Entrance with staircase leading to the 1st floor
Large fitted kitchen
Dining room
Main sitting room
Television room
Office
Double bedroom
Bathroom
Linen room
1
Upstairs:
Double bedroom with bathroom ensuite
Double bedroom with bathroom ensuite
Double bedroom shared bathroom
Double twin bedroom shared bathroom
Bathroom
Staircase leading to terrace
We provide towels and linen, a safe, sunbeds, a telephone, air-conditioning and central heating.
The house is perfect for children who love the space to run and play.
The house is also suitable for the elderly or infirm.In the main house there is 1 double bedroom on the ground floor, very suitable for those who don't like to climb stairs.
Well behaved pets will be considered.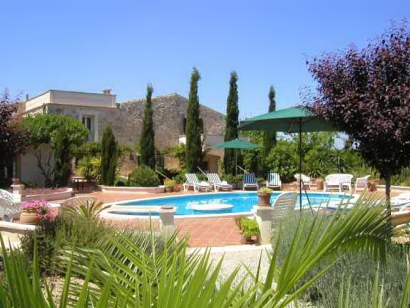 The house is surrounded by a 2000 m2 garden. With different terraced areas, a large oval swimming pool, a water garden and a badminton court. There are around 20 garden chairs, 10 beach chairs, 2 bicycles and a BBQ for enjoying those wonderful warm mallorcan evenings.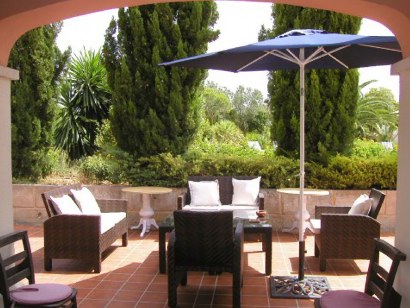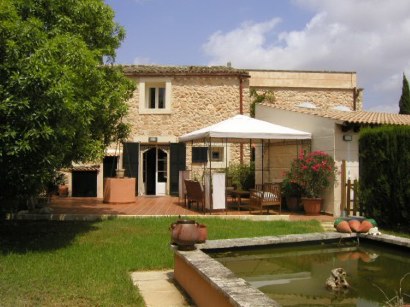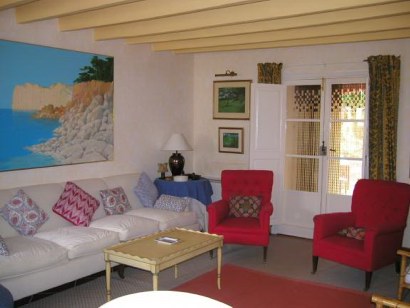 In addition there is a TV room with seating for 8 people, a computer room /library with internet access and a collection of dvds.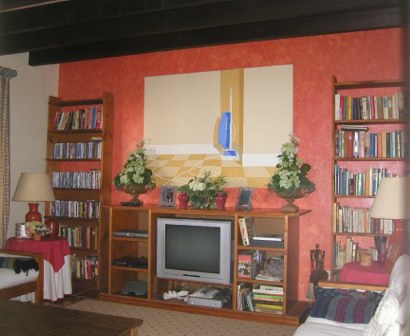 1
The House
Case de Siquier is a listed old farmhouse and can be seen on a 17th century map of the village of Santa Margalida. The house was reformed in 1996 and is a fantastic location for a fun filled family holiday in the majestic Mallorcan Countryside.
Case de Siquier has been carefully designed for comfort and the owner, a notable artist, has decorated the house in a classic style.
Each room is unique with a mixture of modern and antique furniture and artwork on every wall.
There are 4 terraces surrounding the house and each one is specifically designated for a different purpose, like the long terrace, used for relaxation and outside dining, with a table large enough for all.
Likewise the gardens have been divided to create different aspects and to give you the freedom to enjoy all of them without being confined to only one area. For those who enjoy some exercise we also have a full size badminton court.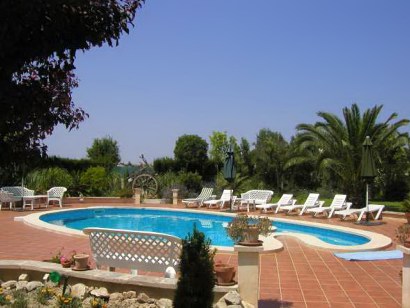 Incorporated into the main house is a separate 1st floor studio apartment. This has its own entrance and terrace and comprises of a twin bedded room, small kitchen and bathroom.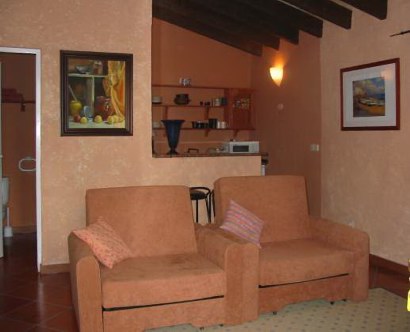 It must be noted here that if all 12 people are staying, two of them will be housed in this 1st floor studio apartment. This is part of the house but has it's own entrance, terrace, kitchen, bathroom and sitting room complete with twin sofa beds, sat. TV and video etc. This could be very suitable for those parents who like to be separate from the family, teenagers or a nanny.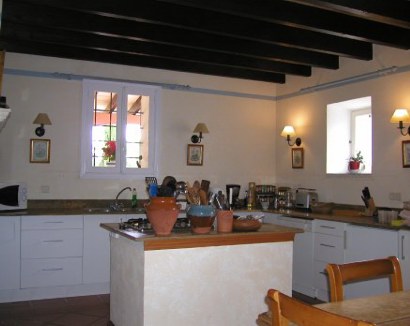 The kitchen is large and airy and is idea for family cooking. The kitchen has a grill, a 4 ring stove, a dishwasher, a fridge, hob, oven and microwave. There is another seperate laundry room with washing machine, dryers, fridge/freezer etc.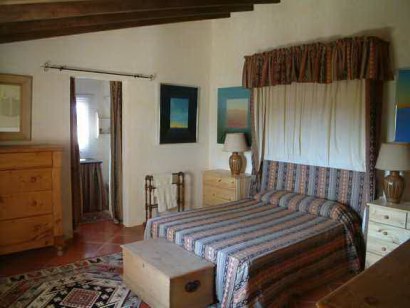 The bedrooms are are decorated in their own style and most have en-suite bathrooms.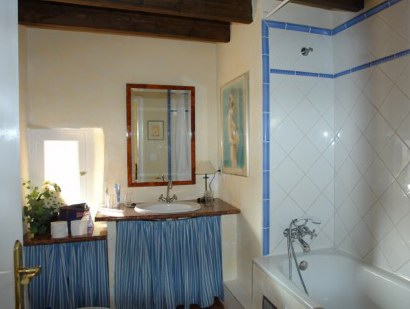 There is a fireplace in the lounge with seating for 9 people. We also have a tv, satellite, video player, radio, stereo system, cd, audio tape player, DVD, internet access with wireless broadband.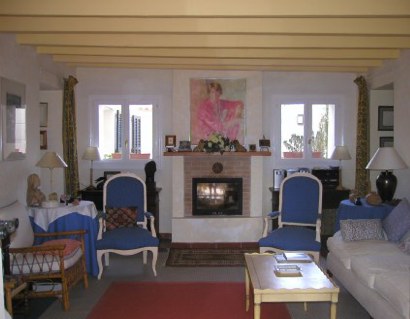 The dining room has seating for 13 people